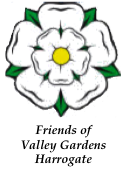 Welcome

The Friends Of Valley Gardens restore, maintain and enhance the area known as Valley Gardens and promote the Spa history and heritage of the area. Valley Gardens is open 24 hours a day throughout the year. We work in partnership with Harrogate Borough Council. We are a registered charity number 1148369. Our President is Martin Fish. Friends Of Valley Gardens are supported by the National Lottery through the
Heritage Lottery Fund
.
You Can Now Follow FOVG on:
_________________________

___________Twitter
_________________________

___________Facebook
________________

______Instagram (for Friends of Valley Gardens)
_________________________

__________Instagram (for Japanese Garden Restoration)

Bulletins
Seventh Annual Fabulous 1940s Open Day Hosts 39,000 Attendees: FOVG would like to thank the volunteers and attendees at the 1940s Day who helped to make this year's event the most successful ever. The Harrogate Advertiser reports that more than 39,000 people enjoyed the beautiful weather and wonderful entertainment!

Valley Gardens Head Gardner, Simon Collier to Walk Coast to Coast to Raise Funds: HBC's head gardener in Valley Gardens, Simon Collier, accompanied by his dog, Russell, Simon's brother, Michael, and good friend, Steve, are to walk 84 miles spanning the length of Hadrian's Wall from Bowness to Wallsend. The walk, which will be completed from 19th - 24th July, is to raise money to be divided equally between FOVG and Starbeck in Bloom. Stray FM will be monitoring his progress.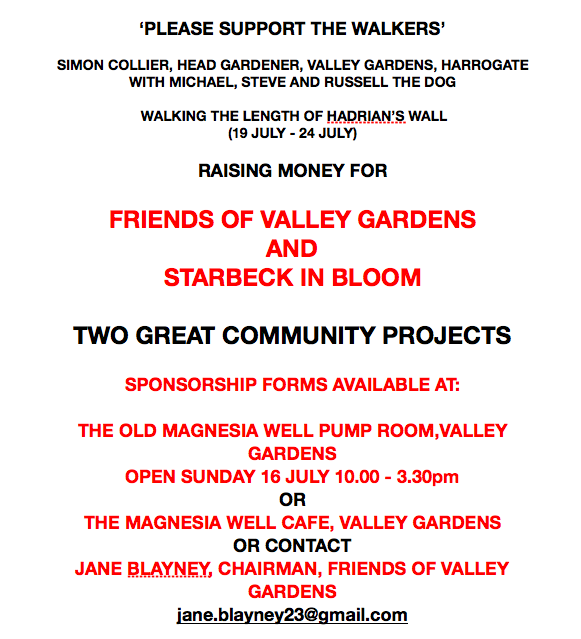 How to Donate to Simon's Walk: There are two ways to Donate in Support of Simon:
1. To donate a fixed amount, please use the "Donate Button" below. As you complete the form, insert the phrase "In support of Simon's Walk" in the "Personalised Message" box along with any other remarks of encouragement for Simon that you would like to include. Complete the form and funds will be electronically transferred from your account to FOVG.




2. You can also pledge an amount per mile or donate a fixed amount. You can pick up a sponsorship form at The Magnesia Well Cafe in Valley Gardens or by contacting:
Peter or Jane Blayney, Friends of Valley Gardens
23 York Road
Harrogate HG1 2QL
Phone: 01423 505231
Mobile: 07778 236 234
email: pjblayney@gmail.com or jane.blayney23@gmail.com.
Please give your name, email address, phone number, the amount pledged per mile or fixed amount and if Gift Aided. You can mail a check to the above address or wait until the end of the walk and wait to be notified. Cheques should be made to "Friends of Valley Gardens Harrogate".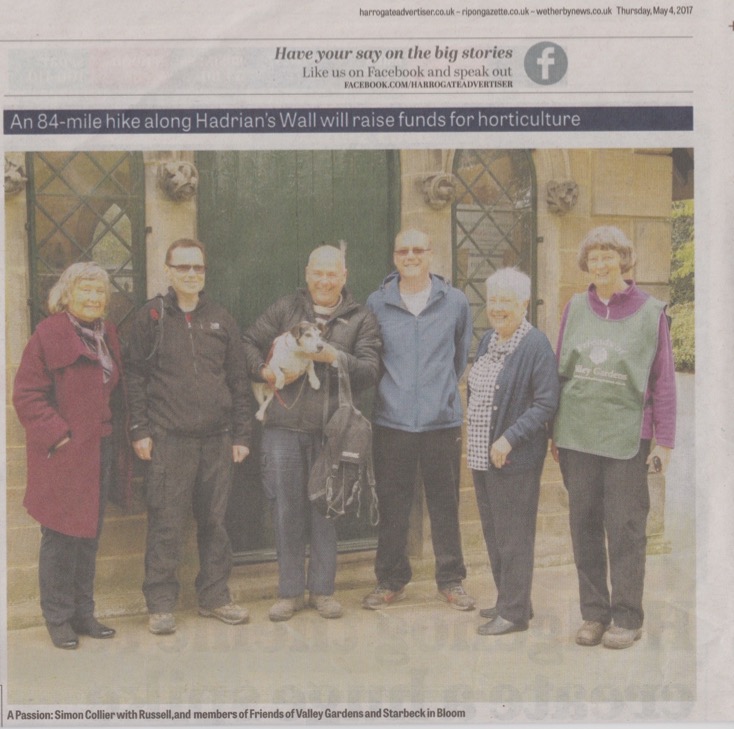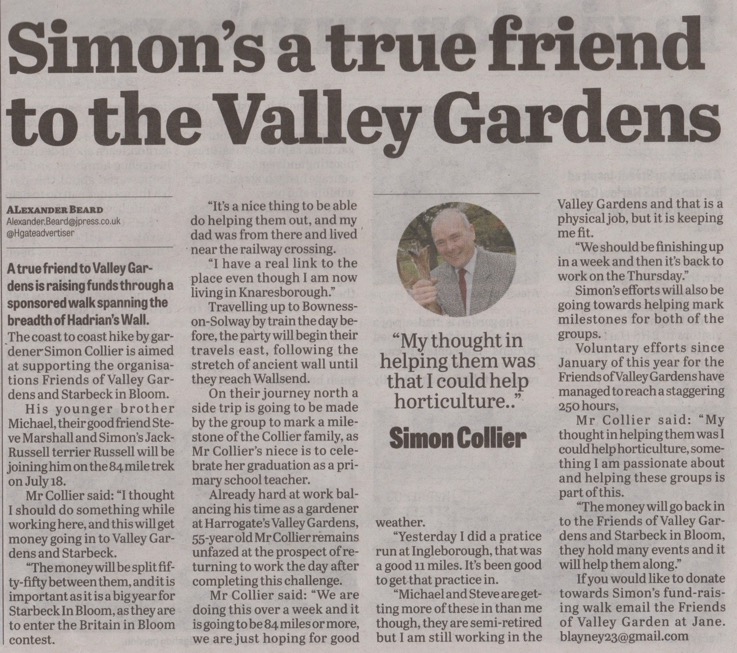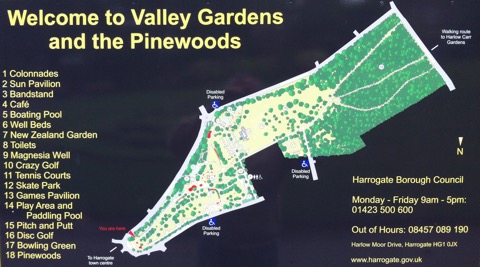 FOVG Newsletter: The latest edition of our newsletter, the Albatross, is now available. You can download a copy by clicking on the following link: Spring/Summer 2017

Friends Pages
For current information about Friends' activities and events, please visit our Friends Pages.
To learn more about Friends of Valley Gardens, click here.
To learn more about Valley Gardens, click here.

Location
The main entrance to Valley Gardens is situated at the junction of Cornwall Road, Valley Drive and Royal Parade Harrogate. Post Code HG1 2SZ. See our maps page for additional information.